NAVIGATING CONTENT CREATION IN AUSTRALIA WITH THE GENIUS OF ABORIGINAL KNOWLEDGE – FOR WOMEN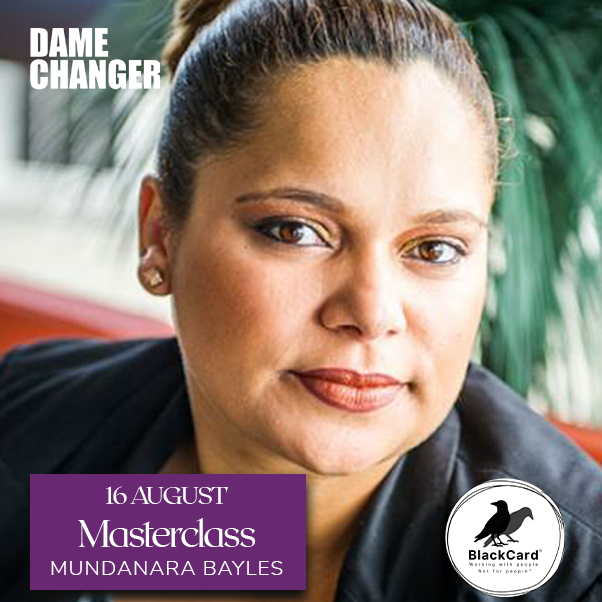 On 16 August 2021 Dame Changer is very proud to be presenting one of its most important masterclass events. An understanding of best practice cultural competency skills are essential to the content creation business in the future as well as to strengthening ethical behaviours between Indigenous and non-Indigenous Australians.
YOU DON'T KNOW WHAT YOU DON'T KNOW
The current conversation on the lack of diversity and inclusion in the media is not a new one. It's a conversation that's been going on in Australia for decades. Indigenous Australians in particular have been under represented or marginalised as "cultural consultants" rather than partners in the creative process.
The Dame Changer and BlackCard masterclass will assist Australian creatives build cultural capacity to work effectively with members of the Aboriginal community.
When: Monday August 16, 10am – 1pm AEST
Where: Online
Cost: Damechanger members $275/Non-members $300
Corporate bookings: $900 for 4 people (every fourth participants free)
Not a Dame Changer member? Join the community today. Click here.
Host:
Mundanara Bayles AFHEA, MAICD is the Managing Director and Co-Founder of BlackCard.  Mundanara's cultural heritage is connected to the Wonnarua and Bunjalung people on her mother's side and the Birri-Gubba and Gungalu on her father's side.
Objective
Develop the confidence to implement required protocols for films where there is First Nations Australian community participation or Indigenous content, themes, cast and crew.
Build best practice cultural competency skills that strengthen ethical behaviour, understanding and respectful relationships.
Understand Aboriginal Terms of Reference via BlackCard's Cultural Capability Framework
Recognise Aboriginal approaches to working, teaching and learning
What
Virtual  3 hours online workshop
Participants receive access to the workshop preparation materials on the BlackCard Learning Portal including:

Pre workshop handbook
Activities, resources and videos,
Guided homework and group activity tasks
Who should do this course
Screen Australia and all State agencies have clear guidelines and policies about consultation and consent when dealing with Aboriginal and Torres Strait Islander material from research to marketing of a film.
The BlackCard masterclass is thus essential for any creative company or industry professional engaged in developing, financing and producing Australian content where there is First Nations Australian community participation or Indigenous content, themes, cast and crew:
Researchers
Writers
Directors
Producers
Development executives
Location Managers
Art Directors
Production Managers
BlackCard's approach is based on a course developed by Mary Graham and Lilla Watson, Aboriginal Elders, Educators and long-time course developers and lecturers for the University of Queensland.