Curated conversations to engage with issues and to gain practical knowledge from eminent speakers in the industry. Internationally focused, the series intends to provide fun and engaging insight into career development for mid-tier professionals and above.
Dame Changer provides MEMBERS with unique opportunities to build strategic relationships and grow industry networks. With ASK AN EXPERT we're making it that little bit easier to connect with key female professionals from the entertainment industry.
10 participants will be selected to participate in the ASK AN EXPERT sessions with an opportunity to:
Meet and chat to industry experts in an intimate online forum
Experts will answer business, project, funding, or career queries and will provide participants with strategic insights, insider knowledge and market intelligence.
These 1-hour sessions will be held on the first Wednesday every month throughout 2021
Please check back here for updated 'Ask an Expert' announcements.
Ask an Expert with Claire Gandy
Claire Gandy is the October Expert in our virtual roundtable event series, for Dame Changer members-only.
Claire Gandy
General Manager Content
Event Entertainment
Cinemas | Event | BCC | GU Film House | CineStar | Moonlight
Wednesday, 6 October 2021 6.30 – 7.30 pm (AEST) VIA Zoom
Attendance is FREE to Dame Changer members. Not a member? Join at the bottom of this page.
Only 10 participants will have the opportunity to chat to Claire in an intimate online forum where they can ask questions about their project, business, funding or career strategies and plans.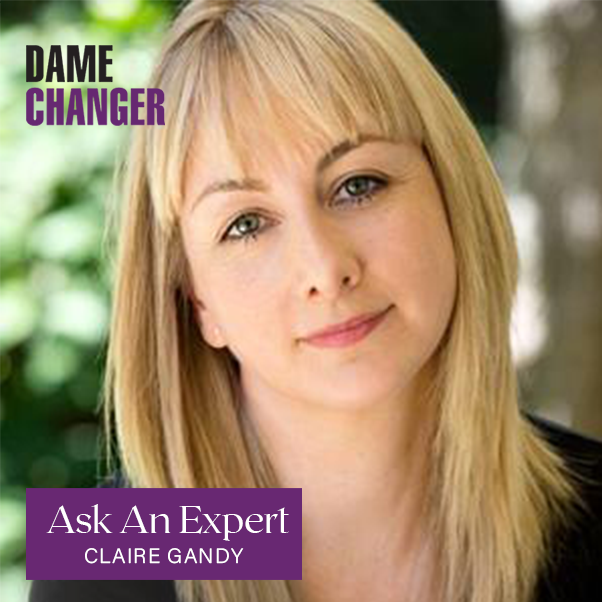 Claire has worked in the entertainment industry for over 16 years.
After completing drama and arts studies, she worked her way to the film department of Event/Greater Union becoming a film programmer, where she gained the knowledge, skills and contacts in the distribution, exhibition and film making community. With that experience she moved to Dendy Cinemas where she was the National Film, Content and Programming Manager, gaining more industry knowledge and perspective from the independent landscape.
During this time, she became involved in the acquisitions process at Icon Films, learning about the creative and business aspects of film distribution and how to acquire strong and engaging films for Icon, becoming Development and Film Acquisitions Manager in tandem with the Content Management for the cinema side of the business, working across all aspects of content, acquisitions, finance, incorporating evaluation of material at any point in its development pathway, forecasting against market trends and financial modelling for acquired content in the Australian market. Claire also began working with producer Bruce Davey assessing varied material for development.
In 2017 she was offered the role of General Manager of Content for Event Cinemas, the largest and most successful cinema chain in Australia and New Zealand, where she is focusing on supporting and nurturing Australian and local content, and expanding the film palettes of the Event audiences with interesting and engaging film and content outside of the broader commercial content offerings.
If you're considering releasing a feature film in cinemas, you shouldn't miss this conversation with Claire. She will talk about the criteria and measures she uses to program films at Event Cinemas and how these differ from the programming strategies she applied at (independent) Dendy. She'll will also discuss the shifting distribution landscape (particularly in regard to streaming and windows), the importance and the challenges of programming Australian films and answer questions about forecasting, negotiation of terms and booking strategies across the national Event circuit.
ASK AN EXPERT is for Dame Changer members only and is free.
Not a member? Join the community today. Click here.
Register Your Interest for 'Ask An Expert' - Claire Gandy
If you're a member and interested in our Ask An Expert Sessions, be sure to register your interest for up-to-date information. Not a member? Become one below the form.