Current state and challenges
Despite intense pressure to change the gender disparity in the film and television industries, women continue to make up a significant minority of all creative leadership roles in content production in Australia and around the world.  Dame Changer aims to support the equal integration of Australian women into vitally important storytelling roles and to raise awareness about the imbalance in women's creative representation behind-the-scenes and on-screen. Our goal is to level the playing field for Australian female talent.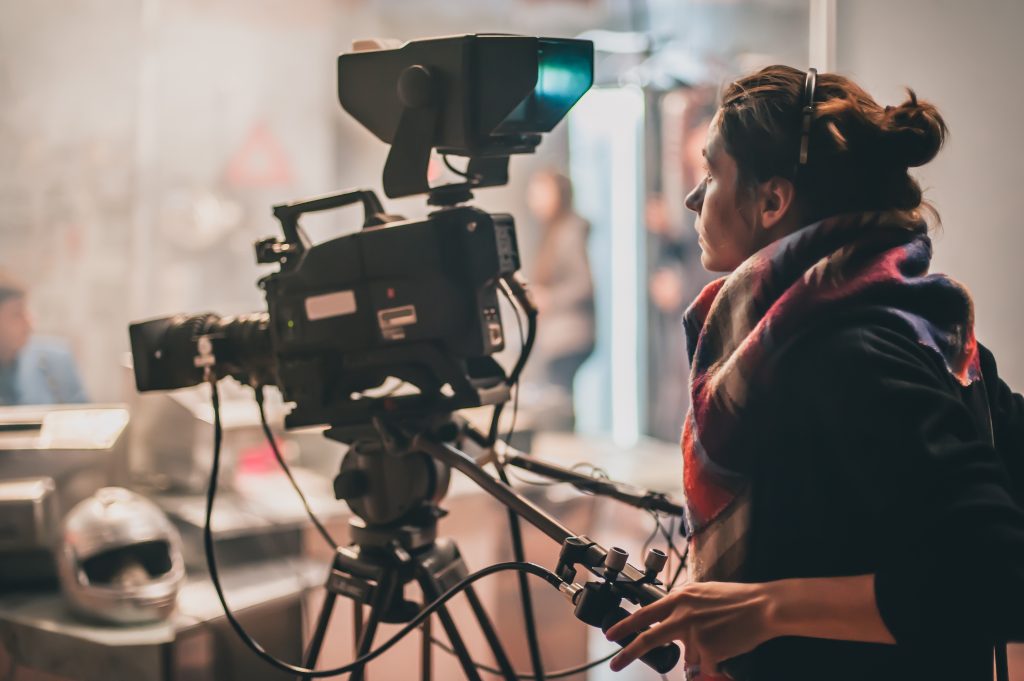 In October 2020, Screen Australia announced it was on track to meet its new Gender Matters KPI at the end of 2021/22, with 57% of key creative roles across approved development and production funding held by women in 2019/20.
GENDER MATTERS
Screen Australia's Gender Matters initiative has brought to the front of our minds the gender disparity in the Australian industry. Click this link to view the full stats.
Click on each of the images below to enlarge them.
Worldwide research about women in media
UNESCO
UNESCO sheds light on the current advances and challenges in the legal protection of artistic freedom, the protection of the social and economic rights of artists and cultural professionals, and the monitoring of artistic freedom. Released on the occasion of World Press Freedom Day 2020, this special edition of the Global Report series builds on the recommendations put forth in the chapter "Promoting the freedom to imagine and create" in UNESCO's 2018 Global Report to assess whether progress has been made, to determine what efforts are still required and what new challenges have emerged.
WOMEN AND HOLLYWOOD
Women and Hollywood educates, advocates, and agitates for gender diversity and inclusion in Hollywood and the global film industry.  On a daily basis, Women and Hollywood sets the standard, defines the conversation, fuels coverage, and reinforces messages throughout the specialized and mainstream media to call for gender parity. Women and Hollywood blogs in a unique proactive style to engage filmgoers and filmmakers with news and information highlighting women filmmakers and agitates for increased opportunities for women.
THE CENTER FOR THE STUDY OF WOMEN IN TELEVISION AND FILM
The Center for the Study of Women in Television & Film generates a number of large annual studies documenting women's representation and portrayals, as well as substantial investigations of the business environment surrounding women in film and television. Every year, The Celluloid Ceiling tracks the employment of women working as directors, writers, producers, cinematographers, and editors on the top 100, 250, and 500 grossing films. Now in its 21st year this study has considered more than 56,000 behind-the-scenes credits on over 5,500 films.
Click on the image below to enlarge it.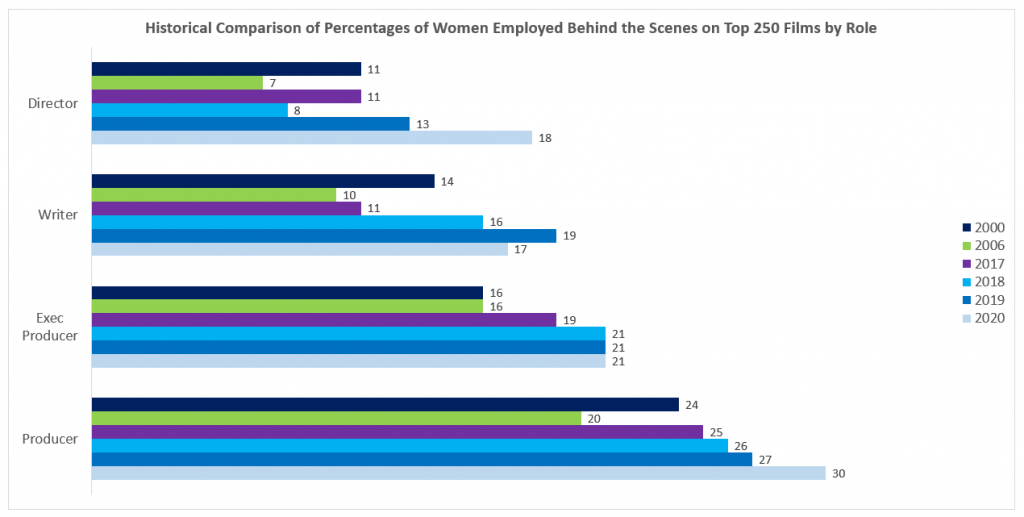 Source: Adapted from 2020 Celluloid Ceiling Report, Center for the Study of Women in Television & Film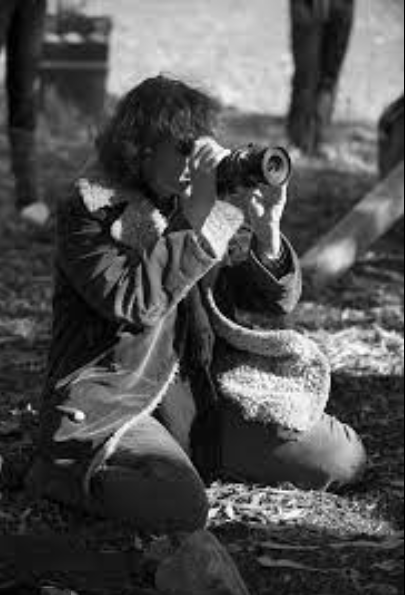 Rachel Ward
Unlike many women who might leave a career to start a family, I began my career change after having a family. Returning to up-skill at university soon after my last child was born, I had anticipated being fully ready for career progression by the time all were in school.
Meanwhile, aside from my own personal commitment, I had also been the recipient of a number of funding grants for short films amounting to over $220,000 in government investment in my career.
From there I have made one feature film and been involved in six television productions since starting a career as a director in film and TV 24 years ago. This is not only a very small return for a 24-year commitment for myself, but a very small return on government investment in a career that could have kept progressing.
I never left the country to work overseas and remain as capable and eager to work as many of my fellow directors. On the last project I was the start up director, directing three out of six episodes. The show won Logie and ACCTA awards for best TV film or series.
I have never come in over budget or over time. I have won best directing nods for five of my projects. In the subsequent five years I have not been able to find any work at all.
What then is stopping my career progression?