Previous Insider Knowledge Events
Curated conversations to engage with emerging issues and to gain practical knowledge from eminent speakers in the industry. Internationally focused, the series intends to provide fun and engaging insight into career development for mid-tier professionals and above.
2022
Man Up – Impact Producing Case Study
Filmmaking teams are invited to attend a 1.5hr Insider Knowledge case study event where Jackie Turnure presents the Impact Campaign for the documentary film, Man Up, discussing the campaign's successes and the learnings, with time for questions at the end.
Members and non-members welcome.
Wednesday, 27th April 2022, 7.30 PM – Online
2021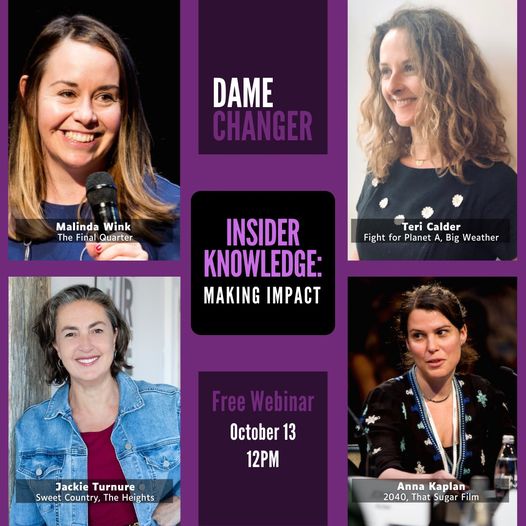 Insider Knowledge: Making Impact
Impact producing describes the combination of distribution, community outreach and audience engagement in an "impact campaign" that allows works to reach a broader audience and amplify influence.
It allows works to not only reach, but resonate, with new audiences.
Join four inspiring impact producers to explore the strategies, opportunities and trends taking place in impact producing:
Jackie Turnure, triple Emmy award winning impact producer
Anna Kaplan, Regen Studios, Impact Producer 2040: The Regeneration
Malinda Wink, Director, Global Doc Society
Teri Calder, Executive Producer, Impact & Partnerships, ABC Australia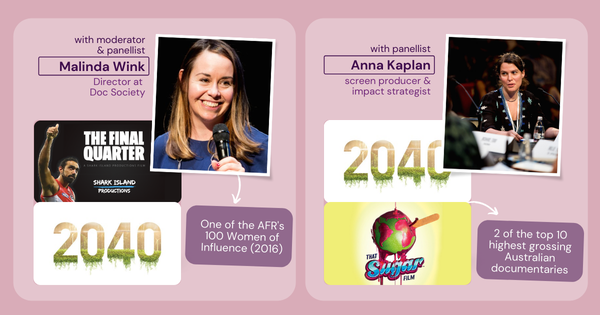 2020
Insider Knowledge: Against-the-odds triumph – The making of I am Woman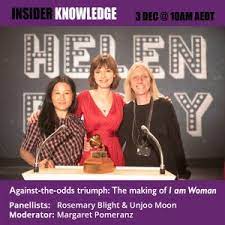 Another insightful webinar from Dame Changer: Margaret Pomeranz talks to Unjoo Moon and Rosemary Blight about the film, the team and the distribution strategy for I am Woman.
In March this year, Transmission Films was forging ahead with the promotion of the theatrical release of I am Woman, Unjoo Moon's Helen Reddy biopic. The film had had its World Premiere at the Toronto International Film Festival in 2019, sold-out cinema screenings before the Stan premiere, including a special Adelaide Film Festival pop-up presentation, and had several sold-out screenings at last month's Adelaide Film Festival.
There were enormous hopes for its performance in Australian cinemas. By July, I am Woman had become one of a growing list of local and international films to announce the move to bypass cinemas due to Covid restrictions and to debut on a streaming service – in this case, on Stan in August.
Margaret Pomeranz talks to Director Unjoo Moon (The Zen of Bennett, Sorrow's Child) and Producer Rosemary Blight (The Invisible Man, The Sapphires) about the many years of creativity, perseverance and hard slog it took to bring the film to the screen, about what it took to make the tough decisions about distribution, and how the film has performed.
We'll touch on the creative, commercial and cultural differences of making films for online services rather than cinemas and the potential impact to the industry should the proposed legislative changes to feature film funding be ratified.
Insider Knowledge is a Dame Changer member event.
2019
Oscar-nominated screenwriter Meg LeFauve (Captain Marvel, Inside Out) will share her insights with writer/actor Susie Youssef (Rosehaven, The Project). Meg will focus on how her producing background has influenced her ability to write complex, yet universally relatable, characters in incredible worlds.
Insider Knowledge is a Dame Changer member event.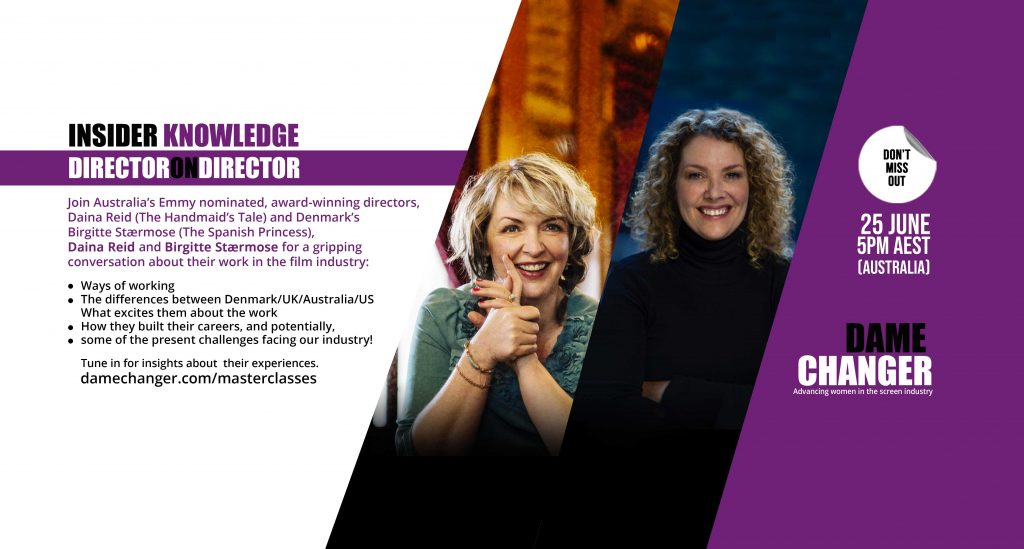 2018
Judi Levine will offer a unique opportunity to gain knowledge about the US film industry, including working with studios and the indie film sector, and honing the skills required to prepare for the AFM and other international film markets.
The one-day seminar brings together a diverse range of industry leaders and experts to discuss current trends in international and domestic markets.
MEET JUDI LEVINE:

Such Much Films
Judi Levine –Producer of The Sessions starring Helen Hunt, John Hawkes and William H. Macy won numerous awards including audience awards at Sundance, San Sebastian and Mill Valley. Both Helen and John were nominated for Golden Globe awards, and Helen was nominated for an Oscar. Her most recent film The Catcher was a Spy starring Paul Rudd, Paul Giamatti and Guy Pearce, premiered at the 2018 Sundance Film Festival and opened across the US to critical acclaim this past June.
Working in the International Market vs Australia

Knowing your product: Trends in the global market (where does your product fit and what makes it stand out?)

Agents, Managers & Casting Directors – getting to them; getting your material read; negotiating deals

Sales Agents: when to bring them on board

Case Study (The Sessions)

Financing: in particular private equity

Film Markets: prepping for markets; what to expect; Planning for AFM (Nov 2018)
Program
Judi Levine – Introduction to the program for the day and to the guest speakers
09:30 – 10:00am
Agents/Managers – Managing Expectations
10:00am–10:45am
US Guest – Bec Smith (UTA)
Dayne Kelly (RGM)
Working with Agents & Managers
Casting International Actors
Getting Screenplays Read
Negotiating Deals
Working in the International Market vs the Australian Market
10:45am –11:15am
Australian Government funding vs NO Government support in the US
Identifying territories that have treaties with Australia for Co-Productions and Partnering with International Production Companies
Developing Strategies and Identifying Critical Elements for Finding Creative Collaborators
Awareness of Your Product in a Global Market Context
11:15 – 12:00pm
Trends in the Global Market; where does your product fit and what makes your project stand out?
The importance of Creating a Proof of Concept
The Screenplay:

Working with your writer – respecting their vision while meeting demands of the market
Attracting A-list cast – the appeal of your characters and knowing what interests your actors
Financing – Strategizing / Attaching Cast / Raising Finance
12:00pm –12:45am
The Complexities of Raising Finance based on Cast
Financing: Tax Incentives; Private Investment; Crowd Funding
Sales Agents: Negotiating deals; the Pros & Cons of early attachments
LUNCH BREAK & NETWORKING
12:45pm – 1:30pm
The Sessions Case Study
Despite Market Transitions, Much of the Process and Challenges Remain the Same
1:30pm – 2:30pm
The Origins of the Story & Securing the Rights
Entering the Market & Raising the Finance
Casting / Scheduling / Shooting
Submitting to Sundance
Attending the Festival
Negotiating with and Selling to Fox Searchlight
Distribution
Festivals and Awards Season
Understanding and preparing for Festivals & Markets
2:30pm – 3:30pm
The Festival / Market Calendar
The Changing Face of Festivals
Strategies for Attending Markets: AFM/TIFF/Cannes
Writer/Director Ben Lewin discusses his Experiences Working in the International Market
Features: The Sessions; Please Stand By; The Catcher was a Spy
TV: Ally McBeal;Touched by an Angel;Speechless
3:30pm – 4:15pm
Working in Australia vs the US
TV vs Features
Casting & Working with A-List Actors
Collaborating with Producers
Managing Expectations for the Release of your Films
Open for Q&A